Deliberately subjecting people to tobacco smoke against their will is socially unacceptable, and amongst sane members of society, deliberately subjecting people to fluoride pollution via tap water is also socially unacceptable. – Deliberately poisoning the public drinking water supply is illegal. 


HIGHER BLOOD LEAD
LEVELS IN CHILDREN.
See  below ⇓


.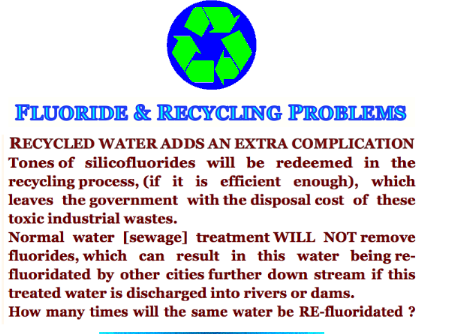 "Like so many products developed for the sake of convenience without concern for human health, teflon coated non-stick cookware when heated has proven to be a primary source of a dangerous toxic fluoride derivative, specifically – perfluor

i

nated chemicals."


This non-stick coating also marketed as:
SILVERSTONE, FLURON, SUPRA, EXCALIBUR, GenX, 

GLEBLON, XYLON, DURACOTE, AND  RESISTAL.




   PTFE is odorless and invisible and bioaccumulates.
When heated above 260ºC it is 

lethal to

 

birds (pets)


and will give humans flu like symptoms.
A Teflon pan reached 721°F in just five minutes as
measured by a commercially available
infrared thermometer.
. 

PFOA is now the subject of about 3,500 personal injury claims against DuPont, including 37 claims for wrongful death –
[An 

old statistic].
.
The toxicity doesn't come from Teflon directly, but mainly from one of  the many compounds that are released when the non-stick coating is heated to a high temperature. Perfluorooctanoic acid (PFOA), known as C8 (because it has 8 carbon atoms), is a proven carcinogen.
Lab. studies suggest that PFOA can cause cancer and birth defects in animals, and might pose a risk in humans. PFOA stays in the body for years and in the environment indefinitely.


[ The "F" is for fluoride ]


However safer alternatives are now now available.
See here⇓
…
CeraMax
Ceramic cookware is forged with a super-efficient thermal conductive base which instantly radiates heat throughout the entire pan in seconds.100% PTFE and PFOA free.
. . . . . . . .
Ordinary non-stick pans often contain the chemical compounds PTFE and PFOA in their coatings. These chemicals can alter the original taste of your food and can even release toxins into your food…
.

     In 2007, the shocking results of a study conducted at the John Hopkin's Medical Center (Bethesda, MD) showed that levels of the toxic PFOA were found in 100% of a sample of almost 300 newborns, delivered at the hospital. Samples of umbilical chord blood were also shown to contain varying levels of PFOS. Asians (6 ng/ml) had the highest concentration, followed by Blacks (5.1 ng/ml) and Whites (4.2 ng/ml). Males babies had higher PFOS and PFOA than females. Obese and underweight mothers had slightly higher concentrations than women of normal weight. Other studies have found that some of the highest levels of PFOA and PFOS have been in children.
Two perfluorinated compounds– PFOA and PFOS– were found in virtually all of 299 newborn babies studied in Baltimore, according to scientists from Johns Hopkins University. The results indicate that exposure in the womb to these two chemicals is virtually ubiquitous. Eight other PFCs were detected less frequently.
The saturation of PFOA in human blood has many scientists worried.
.
[ The slow elimination time makes it difficult to determine how changes in lifestyle, diet, or other exposure- related factors influence blood levels. ]
Please Note:

  The TGA which is funded by drug companies,
influences the labelling of vitamins which compete with
their products – their dose 

recommendations


are usually far too low…! 
.
THE PFOA MOLECULE DOSE NOT
DEGRADE OVER TIME

    Every one that is made and released in the environment will continue to be there for an indefinite time. The cumulative levels of PFOA will continue to increase in both the environment and in the human body.
DuPont studies show that the Teflon off-gases toxic particulates at 446° F. At 680°F Teflon pans release at least six toxic gases, including two carcinogens, two global pollutants, and MFA, a chemical lethal to humans at low doses. At temperatures that DuPont scientists claim are reached on stovetop drip pans (1000°F), non-stick coatings break down to a chemical warfare agent known as PFIB, Perfluoroisobutylene a chemical analog of the –
WWI nerve gas phosgene – 

85,000 deaths.


           
 
THE PFOA MOLECULE DOSE NOT DEGRADE OVER TIME


PROBLEMS WITH AUSTRALIAN MILITARY FIRE FIGHTING CHEMICALS:

It was revealed in September 2015
the chemicals had leaked from Williamtown Air Force base into ground and surface water, prompting bans on bore water and closing fishing grounds.
"Stop trying to downplay the seriousness of this issue. They are incredibly serious toxins, and it is a real worry for those people living around them.-" Mariann Lloyd-Smith, National Toxics Network senior advisor. –
Editors Comment:


The RAAF once used harmless environmentally


 friendly fermented blood and 

bone, and


liquorice to make fire fighting foam,
it made the plants grow fast…
I know, I used it on a RAAF base.



⇑ 98 Papers ⇑

The Gold Coast (Queensland) commenced fluoridation



5 November 1968, and finished

14 July 1979,
but started again with Anna Bligh [t]

 – 2008.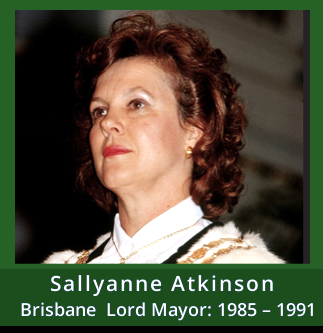 April 1985 proposed to fluoridate Brisbane City,
but changed her mind after she examined technical literature – Including:
'Fluoridation, 1979′ by Philip R.N.Sutton.
(Provided by 'Brisbane Anti-Fluoridation Association')

. . . . . . . 
He lost his safe seat of Ipswich 
1974 -1978 
when
he proposed
to fluoridate all of Queensland.
In all other matters he was a good
politician but his obsession with
fluoridation was his downfall. 

The Lord Mayor's Task Force On Fluoridation was established in January 1997 in response to debate in the media and the political arena about whether Brisbane's water supply should be fluoridated. – "The majority of Taskforce members would not support the introduction of water fluoridation to Brisbane until the recommended Australian research has been carried out."
The Queensland Government's official Water Fluoridation Position Statement in 2003 admits that without the express consent of the community, water fluoridation is unethical mass medication and that a referendum ensures [some] community consent.
— In 2004, amendments were made to the Fluoridation of Public Water Supplies Act 1963 (Qld.) which removed the need for a council to hold a poll for the purpose of determining whether a majority would vote against the proposal. —
Since 12th March 2008
Queensland Shires CAN
Now Legally Quit Fluoridation

See Original Hansard ⇒

 HERE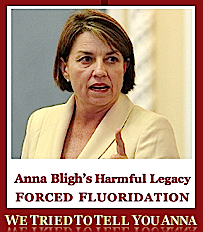 The now deposed and discredited Bligh Government ignored history, science, and the wishes of the people:
The Queensland Government committed $35 million to rolling out a capital program to ensure that more than 90 percent of Queenslanders would have access to [ – Read forced to drink – ] fluoridated water by 2012.
On the 12 Feb. 2008 the Fluoride Bill was introduced to The Parliament of Queensland by
Anna Bligh,
the then Queensland's Premier.
QUEENSLAND HEALTH (?) – [DEPARTMENT]

 

with help from the

ADA

 
Qld., both with an agenda of secrecy, and with little knowledge of human health, democratic rights, or eco-systems and USING DISTORTED FIGURES
See →
The Townsville
Report
) pushed the bill through the house.
See →
Letters sent to her at the time
.

Queensland, the only Australian state that did not have fluoridation as Dr. Exner once observed: [Due in part to research by Queensland Gov. on Fluorosis and Sheep

]

"… that someone would analyse tissues in both high and low fluoride areas and find that fluorine poisoning is common [in those residing in high areas]. But if every community can be fluoridated there will be no fluorine-free areas for comparison. "

Originally the fluoridation infrastructure for Queensland was to cost $35 million and now it has blown out to $113 million – and still counting, plus ongoing cost of chemicals, [ Read imported industrial toxic waste, ].
Local Councils: Fluoridation advocates can no longer claim ignorance, and are now morally if not legally accountable, and may in the future be subject to
CONSIDERATIONS LEGAL…
(The Queensland Health Department, funded The Australian Dental Association Queensland Branch, $220,000 as a CONtribution to its pro-fluoridation campaign. The request for this funding was directed to the Hon. Stephen Robertson MP. The Minister for Health at the time [ Feb. 2006 ]…)
http://www.youtube.com/watch?v=t1SB1_0_L3Q


Mandatory water fluoridation was imposed on Queenslanders by the now deposed Anna Bligh, Queensland's Premier for four years, who lost the election on the 24th of March 2012 in a landslide with her Labor party representation reduced to 7 seats. This happens to governments who don't consult with its electors or fail to listen to them. – Premier Bligh Resigned The Next Day …


Without the phosphate industry's effluent, water fluoridation would be prohibitively expensive.
And without fluoridation, the phosphate industry would be stuck with an expensive waste disposal problem.

     A NEW RECENT HOPE !

November 2012, the Queensland Parliament reversed the previous government's mandate requiring all public potable water supplies serving more than 1000 people to add fluoride to the water. As a consequence of these changes local councils in Queensland 

NOW HAVE A

 

CHOISE

 to add fluoride to drinking water supplies.
The previous government, under Queensland Premier Anna Bligh, announced on 5 December 2007 that the fluoridation of most of Queensland's water supplies will begin in 2008. [

27

] When it was enacted the Water Fluoridation Act 2008 required the addition of fluoride to any water supply supplying potable water to at least 1000 members of the public, unless an exemption is granted based on safety or naturally occurring levels that meet the required levels. [

28

] Prior to this legislation Queensland was the only Australian state without a formal statewide program for the addition of fluoride to drinking water.
The Water Fluoridation Regulation 2008 listed 134 drinking water supplies that were to be fluoridated by 31 December 2012. [

29

] Of the drinking water supplies listed in the Regulation, 32 comprised the SEQ Water Grid located in Southeast Queensland. The fluoridation of these supplies by the end of 2009 accounted for the largest increase in people currently receiving fluoridated water in Queensland (approximately 2.6 million people in 2006 or 68% of the Queensland population). Prior to the requirement to add 
fluoride in 2008 the towns of
Biloela, Dalby, Gatton, Mareeba,
Moranbah,
 and Townsville/Thuringowa had been adding fluoride to their drinking water – some since 1972, though some of these towns stopped adding fluoride prior to the Water Fluoridation Act. [

30

]  (One town did not inform the Queensland Gov. or the local residents and dentists. – No body is empowered to poison the city's water supply. –  We can only guess how that would have throne out the statistics.) Before the current legislation the addition of fluoride to water supplies was regulated by the Fluoridation of Water Supplies Act 1963. [31]
Several areas of Queensland, such as Julia Creek, Quilpie, Thargomindah and Adavale are known to have naturally occurring fluoride present in their drinking water, a characteristic that has been studied since the late 1920s. [

34

] [

35

]
QUEENSLAND FLUORIDATION ACCIDENT – OVERDOSE


In 2009 an accident occurred at the North Pine treatment
plant, and some homes received water having many
times the recommended level of fluoride…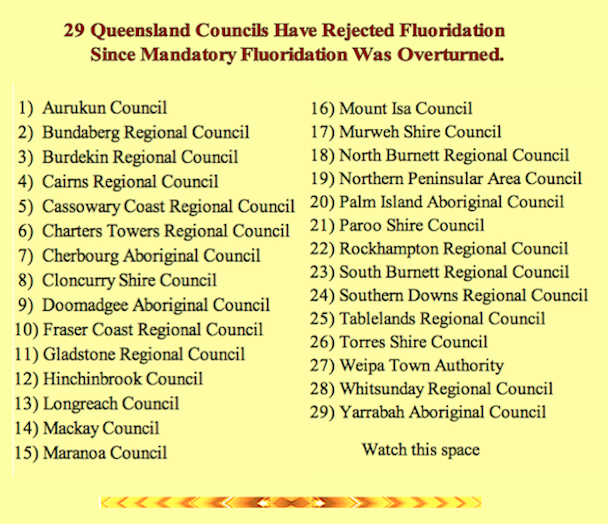 March 2015 →

 

HERE



70.2% of  Stanthorpe residents and 64.7% of
Warwick residents voted in favour of DISCONTINUATION.
.


19 July 2016



The Gladstone Regional Council has decided to take fluoride out of our region's water.

The decision was met by applauds from the crowd in the chamber.

It's expected to take 40 days to phase out.
.
28 Sept. 2016


Mackay City Council are to be heartily congratulated on becomingnthe 27th Queensland Council to reject water fluoridation.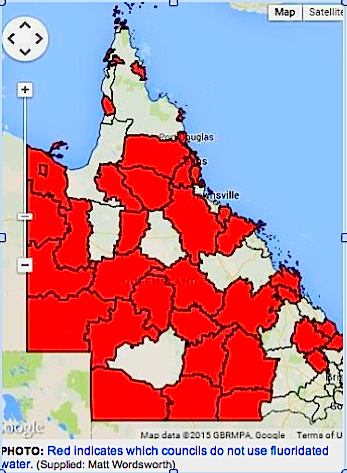 POWERFUL CORPORATE
INTERESTS ARE 
INVOLVED IN THE PUSH 
FOR FLUORIDATION —
    Fluoridation is an entrenched myth from the 1950's. It is based on flawed research, but has become a mantra for most dental schools whose uncritical staff and students have been indoctrinated about its supposed "benefits" for over two generations. Medical schools have become aligned with this thinking. This is encouraged by the financial support that flows to universities, dental schools and to some practitioners from the sugar purveyors and industries having much to gain financially in various ways from the promotion of fluoridation.
[ – Col-hate – ]
"…The establishment 'experts' generally receive better coverage in the media than 'dissidents' on most environmental, health and political issues. In the case of fluoridation the 'experts' have succeeded in convincing the vast majority of people in whole countries that 

opponents must be either cranks, extreme right-wingers or left extremists, or health 'faddists'.

  This remarkable propaganda success has been achieved primarily by trading on the authority of the medical profession and by putting pressure on 'dissident' medical doctors, dentists and scientists to keep silent. The stereotyping of opponents has placed pressure on scientific and professional journals and the media NOT to publish material critical of fluoridation…" However the truth will prevail.


↓ ↓ 'Second Look' ↓ ↓
Click On The Tower Below To See Our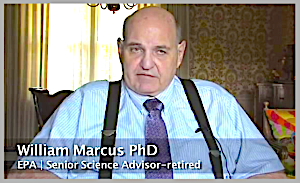 Dr. WILLIAM MARCUS
Dr. William Marcus, the Former Chief Toxicologist of the
EPA's Water Quality Program: ↓ ↓ ↓
Dr. Marcus' case was taken up by the Nation Whistleblower's Center which protects government employees from retaliation for publishing damaging facts about the government. He fought a two year legal battle where it came out that EPA lied, shredded documents, and falsified documents in their campaign against him. EPA was ordered to reinstate Dr. Marcus and pay back wages and damages for its actions. It takes a brave (or retired) scientist or dentist to speak out against the discredited practice of artificial water fluoridation, without fear of censure, or reprisal, but now some are doing just that.
April 1958, the Association of American Physicians & Surgeons, with more than 15,000 members, most of whom are also members of the American Medical Association, passed a resolution in opposition to fluoridation, which states:
❝ The Association condemns the addition of any substance
to the public water supply for the purpose of
affecting the bodily or mental function
of the consumer. ❞




PEOPLE WITH KIDNEY IMPAIRMENT ARE
AT GREATER RISK FROM FLUORIDES
Indigenous Australians have smaller kidneys than non-indigenous
a reduced number of nephrons and decreased renal reserve –
(Singh G, White A, Spencer J, Wang Z, Hoy W [1999]).

Inorganic fluoride. Divergent effects on
human proximal tubular cell viability. R. A. Zager and M. Iwata.
Fred Hutchinson Cancer Research Center, Seattle.



→
HERE
←
Keywords and links to research papers ↓ ↓

THE NATIONAL KIDNEY FOUNDATION (USA)
NO LONGER ENDORSES FLUORIDATION:
"The 1981 NKF position paper on fluoridation is outdated.
The paper is withdrawn and will no longer be circulated,
effective from the 10/06/07″ – NKF Board of Director's meeting.
❝ The safety margin for exposure to fluoride by renal patients is unknown, measurements of fluoride levels are not routine, the onset of skeletal fluorosis is slow and insidious, clinical symptoms of this skeletal disorder are vague, progression of renal functional decline is multifactorial and physicians are unaware of side effects of fluoride on kidneys or bone. ❞
FLUORIDE MAY DAMAGE BONES OF KIDNEY PATIENTS
NEW YORK, June 9 /PRNewswire-USNewswire/ —
The National Kidney Foundation withdrew its support of water fluoridation citing the 2006 National Research Council (NRC) report indicating that kidney patients are more susceptible to fluoride's bone and teeth-damaging effects. The kidney-impaired retain more fluoride and risk skeletal fluorosis (an arthritic-type bone disease), fractures and severe enamel fluorosis, which may increase the risk of dental decay, reports the NRC. Fluoride is added to US water supplies ostensibly to reduce tooth decay. Fluoride is also in foods, beverages, drugs and dental products. The National Kidney Foundation's (NKF) former fluoridation position statement also carried surprising cautions. The NKF advised monitoring children's fluoride intake along with patients with chronic kidney impairment, those with excessive fluoride intake, and those with prolonged disease. But NKF now admits, "exposure from food and beverages is difficult to monitor, since FDA food labels do not quantify fluoride content." The NKF's April 15, 2008 statement goes further: "Individuals with CKD [Chronic Kidney Disease] should be notified of the potential risk of fluoride exposure." "More than 20 million Americans have CKD, and most don't even know it. More than 20 million others are at increased risk for developing CKD," NKF reports. "There is consistent evidence that impairment of kidney function results in changes to the way in which fluoride is metabolized and eliminated from the body, resulting in an increased burden of fluoride," concludes Kidney Health Australia in a paper NKF
recommends reading. NKF's fluoridation support was dropped when a lawyer, an academic dentist and public health professional, Daniel Stockin, alerted it to NRC's findings. "An easy way to reduce the uncontrolled flow of fluoride into our bodies is to stop water fluoridation," says attorney Paul Beeber, President, New York State Coalition Opposed to Fluoridation. "But it takes political will to reject fluoridation." The American and Louisiana Dental Associations erroneously claim the National Kidney Foundation supports fluoridation. However, even the ADA reports that "decreased fluoride removal may occur among persons with severely impaired kidney function who may not be on kidney dialysis." Chronic kidney disease is a growing health problem in the United States occurring more often in African-American populations, says the Centers for Disease Control…
COUNTERFEIT ARGUMENTS
Fluoridation promoters try to deny that water fluoridation is a form of mass medication, claiming that, as there is often a small amount of natural fluoride in some waters (i.e. calcium fluoride),

…it is just topping up the water with extra fluoride to achieve the 'optimal' level…" Arsenic also occurs naturally in some waters ! This is a cunning but transparent evasion of the real issues involved, ( crooked thinking  ) an unconscionable violation of medical ethics, true science and is against many human rights charters.
✹

   FIRSTLY, the "extra fluoride" is in the form of sodium fluorosilicate, an unrefined artificial toxic waste containing fluoride, this does not occur in nature.
✹

  SECONDLY, there is no "optimal level" for fluoride because it is not a nutrient for man, beast or plant.
✹

  THIRDLY, the addition of fluoride to water cannot be likened to the blanket use of chlorine in water treatment, which is accepted as a necessary precaution to make the water safe to drink, and it can be easily removed (Chlorine dioxide is however a better choice) – unlike fluorides.       

✹

  FINALLY, a medication is any drug or remedy used to treat a specific medical condition. Here the fluoride is being used as a medication to treat / dose, people, not to purify the water, in this case targeting their teeth. Medical ethics demand that such substances be given to people with the right of refusal (i.e. informed consent), and if consent is obtained the medication is provided with individual dose and other specific recommendations to control its use. This does not occur with water fluoridation, which is an unregulated dose. It is a totally irresponsible, unethical dogma, clumsy and unscientific and a dangerous precedent in medicine, it is based on ignorance and or deceit and is in contempt of social justice…

❝ No one shall be subjected to torture or to cruel,
inhuman or degrading treatment or punishment.
In particular, no one shall be subjected
without his/her free consent to medical or
scientific experimentation. ❞
Source

Fluoride proponents, talk as if water is the sole source of this element, or that it is in short supply, but many Queenslanders are already at risk of absorbing too much fluoride from other sources. Fluoride use and emissions have become increasingly common in industry since the end of  World War II. Apart from superphosphate factories, pollution from aluminium smelters, the nuclear industry – uranium hexafluoride, oil refineries, car exhausts, glass manufacture, burning of coal, pottery firing, crop spraying and steel production are major sources. Others are processed foods, some countries use fluoridated salt in their foodstuffs, soft drinks and fruit juices, canned foods, teas, pesticides, rodenticides, wood preservative some pharmaceutical drugs, welding fluxes 

♦

, 

fluoridated

 

toothpastes

 and 

dental rinses

. Fluoride pollution is widespread but is being ignored by the Queensland Government and some dentists.
Fluorides are tasteless, oderless and colorless,
and as air pollutants they are invisible. 

 THE TOTAL FLUORIDE CONTENT BEING NOT MORE THAN
15.1% BY WEIGHT OF SAID FLUX…

– International Research –

Journal of Pharmacy
'FLUORIDE TOXICITY – A HARSH REALITY'
Nalanda College of Pharmacy
Nalgonda INDIA
by

N Gouri, Otilia J F Banji, David Banji, Mansava Ragini, Bandlapalli Pavani.


SF6 [Sulphur Hexafluoride] is the most potent greenhouse gas that it has evaluated, with a global warming potential of 22,800 [

7

] times that of CO2 when compared over a 100-year period. Measurements of SF6 show that its global average mixing ratio has increased by about 0.2 ppt per year to over 7 ppt.   Sulfurhexafluoride is also extremely long-lived, it is inert in the troposphere and stratosphere and has an estimated atmospheric lifetime of 800–3200 years. 

[

9] SF6 is very stable (for countries reporting their emissions to the UNFCCC, a GWP of 23,900 for SF6 was suggested at the third Conference of the Parties:  GWP used in Kyoto protocol

   Fluorides are released into the environment naturally through the weathering and dissolution of minerals, the emissions from volcanoes and from marine aerosols (WHO, 2002). Fluorides are also released into the environment via coal combustion and process waters and waste from various industrial processes, including steel manufacture, primary aluminium, copper and nickel production, phosphate ore processing, phosphate fertilizer production and use, petroleum refining, glass, brick and ceramic manufacturing, and glue and adhesive production (WHO, 2002).
          Based on available data, phosphate ore production and use as well as aluminium
          manufacture are the major industrial sources of fluoride release into the environment.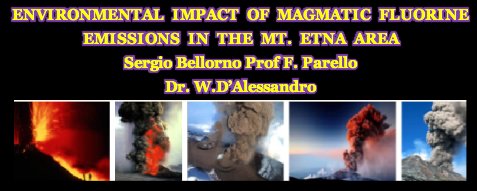 Fluoride emissions from volcanoes →
HERE

Adding fluorides to our drinking water at what is claimed to be the "optimal dose" will affect us all, INCLUDING YOU THE READER, to suffer fluoride at various levels. Fluoride promoters confuse the issue by setting a desired concentration 1 ppm of fluoride in the drinking water, — THIS IS A RATE NOT A DOSE.
The dose is governed by the amount of treated water consumed by each individual. Population sub-groups like OUTDOOR WORKERS, DIABETICS, ABORIGINALS, THYROID AND KIDNEY-IMPAIRED PEOPLE AND BABIES are the most vulnerable

.
Fluoride is absorbed through our skin when we bath or shower.
For 'Queensland Health' [Department] to talk of an "optimal dose" for fluoride in water is transparent humbug and spin because the dose of fluoride is uncontrolled, unmonitored and little understood in many respects. The "dose" one acquires from fluoridated water depends upon how much water each person drinks, which is a great variable, this cannot easily be measured and in practice is ignored, it is also dependent on climate, weather, elevation, latitude. (Epidemiological studies performed in Kenya and Tanzania have indicated that higher prevalence [Natural F.] and severity of fluorosis may also be related to altitude.)
FLUORIDATION – UNEVEN DISTRIBUTION AND CORROSION


Queensland Health [Department] funded The Australian Dental

Queensland Branch, $220,000 as a CONtribution to its
→
pro-fluoridation campaign.
←
The request for this funding was directed to the Hon. Stephen
Robertson MP. The Minister for Health at the time [Feb. 2006]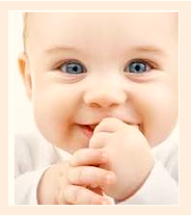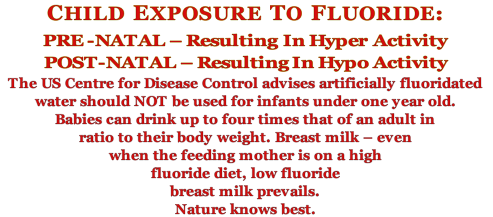 Since 2006 the American Dental Association, dental researchers, and medical organizations throughout North America have recommended that infants NOT consume fluoridated water in an effort to reduce the risk of fluorosis.  While dentists have been warned by the ADA, little has been done to warn the general public or government officials.
We at 'Fluoridation Australia'  believe that if the state or council adds fluoride to the water, it has the responsibility to at least disclose it to customers, and act to protect the most vulnerable population – our children – by warning parents about the risk of fluorosis.
ALUMINIUM AND THE BRAIN
Aluminum salts (especially aluminium sulphate), are added to help clarify the raw water at many, but not all municipal water treatment plants. Several studies (1990's) showed that aluminum uptake by brains of experimental animals doubled in the presence of fluoride. Rats fed the highest doses developed behavior similar to that of senile animals and their brains at post-mortem showed cell loss and other damage characteristic of dementia (Alzheimer's disease). Since approximately half our population over 70 will eventually develop Alzheimer's, based on US figures, this link needs to be explored in Australia. –  (The world spent roughly $604 billion in 2010 to treat dementia.)
There are now over 20 published studies, including 7 in the last 5 years, reporting an association between high fluoride exposure and reduced IQ. (intelligence capacity), [M. Connett & H. Limeback. 2008. Int Assn Dent Res 83rd Gen Session & Exhibn].
… Overall, the behavioral changes from fluoride exposure are consistent with interrupted hippocampal development… This is the first laboratory study to demonstrate that central nervous system functional output is vulnerable to fluoride, and that the effects on behavior depend on age at exposure and that fluoride accumulates in brain tissues…
Some of these studies were overlooked previously as they are in Chinese science journals, but they are of great concern to us because even in the absence of fluoridated water, our citizens, especially children, can absorb excess fluoride from their diet, toothpaste and environmental pollution. Babies are most at risk from early exposure to fluoride as their brains are still developing and therefore susceptible to interference from toxic chemicals, Fluoride crosses the blood brain barrier and reaches the pineal gland. 

♦
Food processing often concentrates fluoride, and foods processed with fluoridated water typically have higher fluoride concentrations than foods processed with non-fluoridated water… A study that found marked differences between cereals processed in fluoridated and non-fluoridated areas showed that cereals processed in a fluoridated area had fluoride concentrations ranging from 3.8 ppm to 6.3 ppm…" – Warren JJ, Levy SM. (2003). Current and future role of fluoride in nutrition – Dental Clinics of North America 47: 225-43. that fluoride may affect the intelligence of a person as early as "embryonic life or infancy, when the growth of the nervous system is most rapid." Since fluoride levels in the body are cumulative, and fluoride intake lowers intelligence, the end result is a population with little ability to evolve."
We cannot afford to have current and future generations "dumbed down" by a process, which is avoidable. Google searches will give access many of these research papers and the science behind them.


❝  Water Fluoridation Is Slow Chemical
Lobotomy
❞

     See also our category ↓
♦

 According to the ancients, the 

→

 PINEAL GLAND INFO. 

←

 was called the organ of morality. "When this organ is at its height of productivity, it very effectively

guides each person through difficult intellectual and moral dilemmas."

   Mainland European countries have abandoned, rejected, or banned fluoridation due to environmental, health, legal, ethical concerns or that it is unsafe and/or ineffective. Most countries have never taken it up. In 1971, after 11 years of testing, Sweden's Nobel Medical Institute recommended against fluoridation and the process was banned. The Netherlands outlawed the practice in 1976, after 23 years of tests. France decided against it after consulting its Pasteur Institute, and West Germany, now Germany, rejected the practice because the recommended concentration in water of 1 ppm was "too close to that at which long-term damage to the human body is to be expected". In other words, there is no margin of safety, as is understood by informed members of the medical profession, in the practice of fluoridation but this precaution is lost on many dentists and others actively involved in promoting water fluoridation. East Germany ceased fluoridation after 'The Wall' came down.
In Europe more than 53 million people who
had water fluoridation for many years
are now free from it.
There is no artificial fluoridation in India. Across the developing world fluorosis is endemic in at least 25 countries, with perhaps hundreds of millions of people affected. As long ago as 1993, according to one study, 20 of India's 32 states were identified as facing problems from natural fluoride. Fluorosis was recorded in Andhra Pradesh as early as the 1930s.) Japan, China, Russia, Mainland Europe and Sri Lanka.

There are now only 6 countries where the majority of people are
forced to drink artificially fluoridated water:
USA, Australia, NZ, Ireland, Columbia and Singapore.


   
Update ⇓



Science is now showing the failure and hazards of fluoridation.
The NHMRC must deal with this now exposed
error to regain public respect and ful-fill its
'Duty Of Care' to the citizens of Australia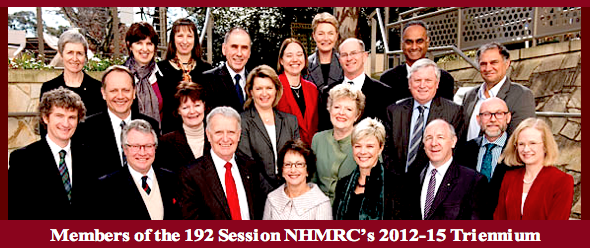 We do not want any more 'Show Trials'

where the evidence is ignored
Thank you!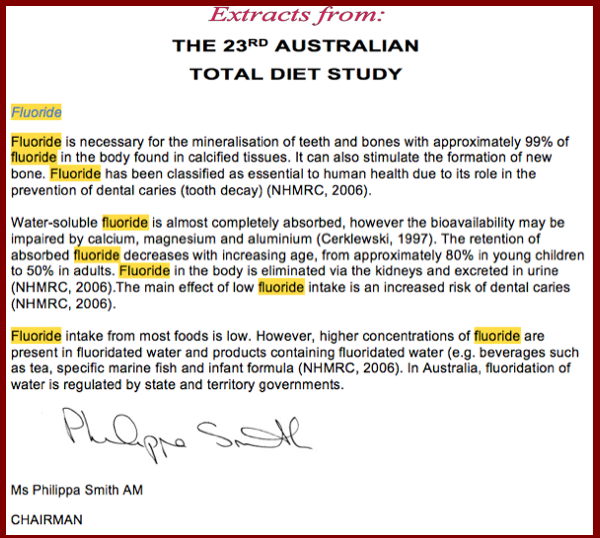 We would not sign these documents Phillippa

!


Full original more recent text, but still unconvincing 

→

 

HERE


 06/05/2015
EMA TIGHTENS RULES ON 'REVOLVING DOOR'
FOR COMMITTEE MEMBERS & EXPERTS
Intention to take up job in pharma industry will trigger
immediate halt of involvement in medicines evaluation.
The European Medicines Agency (EMA) has updated its rules on declarations of interests for scientific committee members and experts. The updates further strengthen EMA's policy by restricting involvement of experts in the scientific assessment of medicines if they plan to take up a job in the pharmaceutical industry. The updates also include a revised guide on how to complete the Agency's declaration of interest form.






Full text →
HERE


YOUR DIET WILL NEED TO INCLUDE:
Vitamin C, Magnesium, Selenium, Iodine, Boron and Strontium, (not Strontium-90) these will need to be part of the diet of every one who is concerned about this problem. "Boron effectively counteracts symptoms of fluoride intoxication in humans (Zhou et al. 1987) and in experimentally poisoned rabbits (Elsair et al. 1980a, 1980b, 1981). Humans suffering from skeletal fluorosis experienced 50 to 80% improvement after drinking solutions containing 300 to 1,100 mg of borax/L daily, 3 weeks a month for 3 months (Zhou et al. 1987). Boron enhances sequestration of fluoride from bone and excretion through kidneys and possibly the intestinal tract (Elair et al. 1980a, 1981). 
Tamarind (Tamarindus indicus) intake is likely to help in delaying progression of fluorosis by enhancing urinary excretion of fluoride. This tree grows well in SE Qld.

Turmeric shown to help protect the brain against fluoride poisoning

Societies with poor diets are at greatest risk from fluoride damage, indeed nutrition explains the great variation in damage between individuals, especially variations of vitamin 'C' status.
♦

 (Bromide used in bread making and PBDEs [flame retardants] like fluorides are toxic antagonists of Iodine and interfere with thyroid function. Fluoride was commonly used to treat HYPERthyroidism in the early and mid-1900s at doses commonly ingested by people today).
Dead sea salt is high in bromide!
MORE INFORMATION ON WATER



FLUORINATED ANAESTHETICS
Before having surgery, ask your doctor if they can use
a non-fluorinated anaesthetic.
Fluorinated anesthetics such as,
Isoflurane, Enflurane, and
Sevoflurane
produce high peak levels of fluoride in blood for up to 24 hours.
[Take your own vitamin 'C' to hospital.]


EXPERIMENTAL ANIMALS NEED TO BE GUINEA PIGS – Cavia porcellus, or Zebra fish.
Guinea pigs like humans do NOT make vitamin 'C' in their livers. Lab. rats and mice however will increase their vitamin C production to overcome the damage from F. or many other poisons or drugs being tested on them, and therefore      

⇓


Organising daily life around any of the above is intelligent but necessitates various levels of determination, knowledge, restrictions and financial burden. – Water from outside the home e.g. work, friends, beer, bread, canned food and drinks, restaurant cooked food and coffee shops etc., will contain fluoride. Therefore most Queenslanders will have no choice but to be exposed to the accumulating hazards of fluoridated water.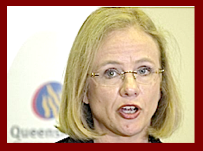 PREVIOUS

ARTICLE 6 – CONSENT:

❝  1. Any preventive, diagnostic and therapeutic medical intervention is only to be carried out with the prior, free and informed consent of the person concerned, based on adequate information. The consent should, where appropriate, be express and may be withdrawn by the person concerned at any time and for any reason without disadvantage or prejudice. 21… ❞

» NATIONAL SECURITY «

Farmers in Australia for reasons of national security (terrorism) are required to keep fertilizers under lock and key. Fluoridation plants and the stored silicofluorides need to be under greater security against terrorists, and constructed high above flood level. Under sweeping new legislation introduced by each Australian State Territory, hydroponic growers will soon be required to obtain a 'Farmers' Licence' to use Ammonium Nitrate and possibly other fertilisers used in crop production…
Back-flow prevention equipment

, (anti-siphon) costing thousands of dollars is legally required to be installed by all hazardous industries and irrigators using city water, to protect our water supply.
Yet amazingly the Queensland Government spend millions of tax dollars installing machinery to deliberately inject imported toxic industrial waste, Silicofluorides, directly into our drinking water supply?
If a private citizen deliberately adds poisonous products to our drinking water, or an industry accidentally were to do so, a jail sentence would be expected.
If a politician deliberately adds poisonous (waste) products to our 

drinking water, a jail sentence should also apply.
Local councils need to keep accurate records that they did everything in their power to protect the health of their communities under 'duty of care' not to poison residents… regardless of  'orders' from the State Governments,
or pressure from the 'dental mafia'. All the promoters of

water fluoridation may be legally liable.
'Ignorance is no excuse in law'.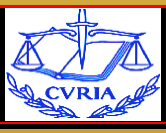 That is the decision of the European Court of Justice, in a landmark case dealing with the classification and regulation of 'functional drinks' in member states of the European Community. (HLH Warenvertriebs and Orthica (Joined Cases C-211/03, C-299/03, C-316/03 and C-318/03) 9 June