An extract from one of the 64 papers:
.
THE NATURE DEFICIT SYNDROME –




WHY FLUORIDE TOXICITY BECOMES 




EVEN MORE CRITICAL IN THE 21st CENTURY "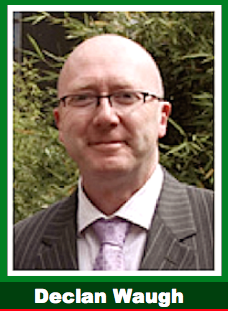 Dr. Declan Waugh (Ireland) was one of the speakers. 

⇓
.
Conclusion:
Non-communicable, chronic diseases are the dominant
health problem in the 21st century worldwide.
Scientific effort should not only focus on avoiding
negative factors like pesticides, fluoride, and
aluminum, but should also press for greater attention to
compensating factors in case of inevitable exposure.
This can be done by remembering and restoring
the natural resources mankind has lost so
extensively as a result of technical
progress and lifestyle changes.


31st CONFERENCE ADVANCES




IN FLUORIDE RESEARCH
Full Original Text Of ALL Papers Here
.
~ INTERNATIONAL SOCIETY FOR
FLUORIDE RESEARCH ~
President
Associate Professor Jashwanti D. Sharma

University of Rajasthan, Jaipur, India
.
First Vice President:



Professor Dariusz Chlubek
Pomeranian Medical University, Szczecin, Poland
.
Second Vice President:



Dr. Sunsanee Rajchagool
Director of Intercountry Center for Oral Health,
Who Collaborating Centre For Promoting
Community-Based Oral Health,
Chiang Mai, Thailand
Co-Secretaries:



Professor Dariusz Chlubek
Pomeranian Medical University, Szczecin,
Poland Associate Professor Masashi Tsunoda
Kitasato University School Medicine, Sagamihara, Japan
Treasurer & Managing Editor of Fluoride:
Dr. Bruce Spittle

Dunedin, New Zealand
Editor of Fluoride:


Professor Emeritus Albert W. Burgstahler
University Of Kansas,
Lawrence, Ks, USA
Members at Large:




Asia



Professor Koichi Kono
Osaka Medical College, Osaka, Japan
Professor Emeritus Ak Susheela
Fluorosis Research & Rural Development Foundation,
Delhi, India Professor Guifan Sun
China Medical University, Shenyang, China
Professor Emeritus Humio Tsunoda
Iwate Medical University, Morioka, Japan
Dr. Amir Hossein Mahvi
Tehran University of Medical Sciences, Tehran, Iran
Europe



Professor Miklos Bely
Hungarian Academy of Science, Budapest, Hungary
Professor Jurgen Franke
Rehaklinik An Der Salsa, Bad Langensalza, Germany
Professor Emeritus Zygmunt Machoy
Pomeranian Medical University, Szczecin, Poland
Professor Jörg Spitz
Institute for Medical Information and Prevention,
Schlangenbad,
Germany

North America

Professor Emeritus Gene W Miller
Utah State University, Logan, UT, USA
.
KEYNOTE SPEAKERS:
Prof. Jörg Spitz (Germany)
Dr. Masashi Tsunoda (Japan)
Dr. Bruce Spittle (New Zealand)
Prof. Susheela Andezhath Kumaran (India)
Prof. Anna Strunecka (Czech Republic)
Prof. Elian Dahi (Tanzania) 
Dr. Shanti Lal Choubisa (India)
Dr. Declan Waugh (Ireland)
Dr. Ümit Demirel (Turkey)
Prof. Zhi-Zhong Guang (China)
Prof. Jungdong Wang (China)

See his paper:
'A RETROSPECTIVE LOOK AT
THREE DECADES OF
RESEARCH ON FLUORIDE TOXICITY'
by


Jundong Wan



See also:




.

.
– – – – – – –
.
Singing nightingale – Amazing bird song.

.