Heating non-stick fry pans [Teflon-coated]
to high

 

temperatures releases a gas
polytetra

fluor

oethylene, which
is highly toxic to pet birds

.


(Polytetra

fluor

oethylene)
(Contains Fluoride)



"We all need your support"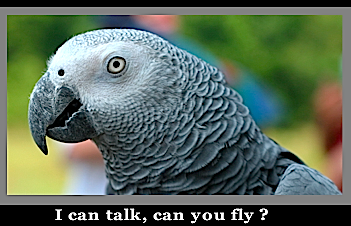 Toxic fumes can come from several
different sources inside your home.

 
  Heating non-stick fry pans or Teflon-coated fry pans
to high temperatures releases a gas, polytetrafluoroethylene, which is highly toxic to pet birds.
The same Teflon-type non-stick surface is also found on the inside of ovens, on irons and ironing board covers.
If you own non-stick cookware, be sure not to overheat it.
Don't leave the iron on or in contact with a Teflon-coated surface.
Don't leave the kitchen while cooking.
Taking these precautions will keep your pet safe while you continue to use convenient household items… 
Credit to 

Dr. Becker



   TEFLON POISONING: Canaries in the Kitchen:
   The Risks of  Teflon in Your Kitchen


   Personal Stories:

EWG (Environmental Working Group) finds heated Teflon pans can turn toxic faster than DuPont claims — EWG tests of coated pans found that in two to five minutes on a typical household stove, heated pans reach temperatures that produce toxins that even DuPont acknowledges kill hundreds of pet birds each year and cause "flu-like polymer fever in humans." I would recommend bookmarking this website:

http://www.ewg.org

.
Great information. If you have time, I would advise you to carefully review this website — it has a lot of information that will help you keep your family protected from toxins (as much as possible).
 Bird owners should realize that
using products with teflon


coating should not be used around birds.




Other brand names with polytetraflouethylene




non-stick coatings are:
Silverstone, –  Fluron,  – Supra, –  Excalibur,
Greblon, – Xylon, –  GenX, – Duracote,
Resistal, – Autograph – and – T-Fal.
Some time ago, the San Antonio Zoo in
Texas lost 21 birds in an outdoor aviary.

Their death was attributed to recently installed lights in an outdoor aviary.
The bulbs had been coated with Polytetraflouethylene (PTFE). PTFE  [ The F. is for fluoride ]. It can also be found on cooking and baking utensils, electric cookers, portable heaters, irons with nonstick plates, self-cleaning ovens, some hair dryers and curling irons – to name a few.
Ask the manufacturer if uncertain.
Self-cleaning ovens: Do not run the self-cleaning cycle on ovens when birds are around. Self-cleaning ovens are lined with PTFE (Teflon) and reach 900 degrees Fahrenheit during the self-cleaning cycle and emit gasses into the air that kill birds rather quickly. [ Not too good for humans. ]
Slow cookers that has a metal interior often have a non-stick (Teflon) coating.
Better choices are stockpots made of ceramic, stainless steel, or other safe metal.
Aluminum Foil with Non-stick Coating: A new type of Aluminum Foil made by Renolds Wrap (also known as "quick release style") has caused the death of some parrots.

Pet owners, who may very well be aware of the dangers that cooking with non-stick pans can pose, are oblivious to the fact that any items with non-stick coating pose the same dangers. One person who did some baking with such nonstick-coated aluminum foil lost her pet birds shortly afterwards because of toxic off-gassing.   
Stain-resistant Coating: PTFE coating can also be found on clothing and material (with "stain-resistant coating"). Carpet cleaning companies will try to sell you on "stain protection" coating — also PTFE!
PTFE is odorless and invisible. BIRDS DIE AN EXTREMELY PAINFUL AND AGONIZING DEATH WHEN EXPOSED TO THESE FUMES. This product may not kill all the birds at the same time. The toxins travel on air currants; furthermore, the size of the bird is also a factor. Please make sure that any cookware, bulbs, heaters / heating bulbs (even hair dryers) are not coated with Teflon; if in doubt, do not use around your birds.
DuPont Fined for Teflon Cover-Up:
The Environmental Protection Agency (EPA) announced it will fine Teflon maker DuPont $16.5 million for two decades' worth of covering up studies that showed it was polluting drinking water and newborn babies with an indestructible chemical.
It was EWG's petition that sparked EPA's lawsuit against DuPont. The fine is the largest administrative fine the EPA has ever levied under a weak toxic chemical law. However, the $16.5 million fine is less than half of one percent of DuPont's profits from Teflon from this time period, and a fraction of the $313 million the agency could have imposed. Yet another reason to strengthen our toxic chemical laws, which EWG is launching a campaign to do.

PET OWNERS SHARE THEIR EXPERIENCES
WITH TEFLON POISONING:

T-Fal Cooking Pot:
One pet owner reports as follows (from e-mail received on 2/26/2009):
YESTERDAY, 2-25-09, I WAS BOILING WATER IN A SMALL T-FAL POT AND I LEFT THE KITCHEN AND WENT TO THE GARAGE, WHEN I CAME BACK IN THE HOUSE I FORGOT THE WATER WAS BOILING.
I WAS IN ANOTHER ROOM WHEN I SMELLED A STRONG ODOR AND WONDERED WHAT IT WAS. I TRACED IT TO THE KITCHEN AND THE WATER BOILED DRY AND THE FIRE WAS UNDER AN EMPTY PAN NOW.
RIGHT AWAY I GOT A FAN AND CRACKED THE DOOR TO LET OUT THE FUMES. I NEVER THOUGHT TO MOVE THE BIRD TO A DIFFERENT ROOM AWAY FROM THIS MESS.
ABOUT A HALF HOUR LATER I WENT TO PET HIM AND THOUGHT HE WAS A LITTLE "SLUGGISH". HE DID NOT ACT HIMSELF. HE FELL TO THE BOTTOM OF THE CAGE AND I PICKED HIM UP AND HELD HIM AS HE STRUGGLED TO BREATHE AND THEN DIED IN MY HAND.
I AM FEELING QUITE BAD RIGHT NOW BUT I HOPE THIS EXPIERENCE WILL HELP SOMEONE ELSE TO BE AWARE AND MORE RESPONSIBLE THAN I WAS. THE BIRD WAS A BLUE CROWN CONURE AND PART OF THE FAMILY."

Teflon Poisoning From An Unlikely Source
(Passed on via Forum)
A forum member shared the following experience: 
    " I know about teflon products and do not purchase them
I do not clean my oven with anything but a plastic scraper and hot water."
"Saturday Jan 10, 2009 – two days ago -, I put an oven liner that claimed it was made from silicone and was completely safe for animals. I followed the directions, started the oven, popped in a pizza.
Within five minutes of taking the pizza out, my Parrokeet fell to the bottom of the cage and died in my hand. I had no clue what happened to him, I tried to clear his little air way, I thought maybe he choked on something. No luck bringing him back. I have only had him for 5.5 months, but you sure can get attached quickly.
I also have two female caiques, Tango and Daisy. These birds are my children just as for many of you. I wanted to show the girls that little Tucker had passed, so they wouldn't call for him. I took out Tango (blk.head) showed her that Tucker was gone, she seemed to understand. When I went to take Daisy (wht.belly) (my princess) I have had her for 3 years, when I looked at her she was sitting low on her heated perch, almost squating. I had her step up, but she had a hard time doing so. Once I had her I could tell something was very wrong, she was wobbly and out of it.
It hit me like a ton of bricks!!!! I had read about this……..
That darn oven must have contained some type of teflon or chemical. My roomate and I now in a total panic, rushed the girls outside.
Daisy was fading fast…….. I was crying and begging her to stay awake. My neighbors came out to help, they called the local avian vet and had to leave a message.
The internet said oxygen… Where am I going to get oxygen at 6pm on a Saturday night??? I was a mess!!! I called the local Fire Dept. I asked them to please, please bring oxygen to save my baby. I must have sounded like a lunatic or something.
They came with in fifteen minutes, we put the mask over Daisy's mouth and her eyes became more alert. I was hopeful. He suggested putting her in a small box and letting the oxygen tube go directly into the box. We got a small box, she seemed to be standing now… Very hopeful now!
The EMT called the University of Tennessee avian vet. The avian vet said it sounds like teflon exposure. He told the EMT the outcome was not good, but the EMT did not tell us that right away, he could see what a mess we already were. The vet said to take the oxygen off for ten minutes and if she stayed alert that we could bring her to the hospital, but if she faded that meant she had already suffered a lethal dose and there would be nothing he could do for her.
Daisy Mae died at 10:15pm, I told her it was bed-time and she went to sleep.
Tango the survivor was trying to feed Daisy the last hour of her life.


. . . .

It broke my heart."