Ross Kieinschmit-Radioactive Water- Queensland
This paper does not mention fluoride and it needs to be considered
with previous research into Underground Water in Queensland.
Fluorides and radioactive fallout are a deadly combination.
Ross Kieinschmit may not be aware of the existence
 of this Queensland Government Research.


We thank him for his in-depth paper.
-~-~-~-~-~-–

♦

—~-~-~-~-


  And



Nuclear fallout from atomic tests in Australia resulted
in some contamination at RAAF Base Amberley.
– Aircraft monitoring radioactive clouds were
washed down on the edge of Warrall Creek.
See ⇒

Maralinga Washdown

 

⇐

See his full original text →
HERE
←
«————————-‹◊›————————-»
See also ⇓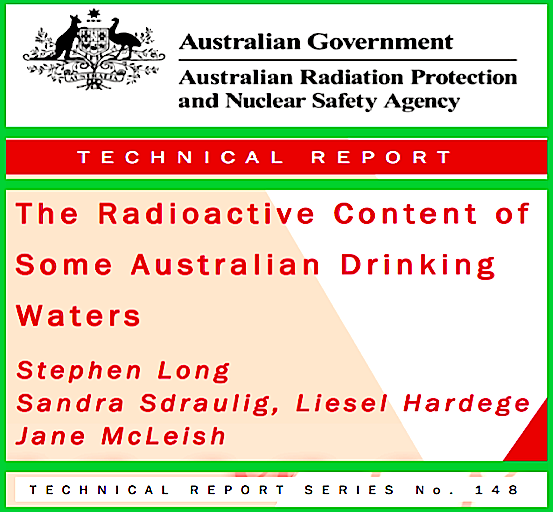 The naturally occurring radioactive elements uranium and thorium,

like most chemical elements, are formed in stars and comprise a
small amount of the material that formed the earth.
The radioactive isotopes uranium-238 (U-238)
and thorium-232 (Th-232) have decay times (half-lives)
which are comparable with, or larger than, the age of the earth,
so they have always been present in the earth's crust
and within the tissues of all living species

…
Full original text →
HERE
←
Our comment:
I met an ex-RAAF person who claimed that there were rumours that a

complete plane was buried at Amberley because it was too radioactive…
Pollution has not been a serious consideration to




the military in the past, but the times are changing.