FLUORIDATION – LEGAL WINS AND ARGUMENTS.
 

We want all Australians to have, what most countries


on this planet have – no artificial water fluoridation!





I gather that NZ now has a big conflict between its Ministry of "Health"
and the Hight Court ruling – and there is now an opening for legal 
actions on the "breach of human rights" and public safety issues – 
these are what stopped Fluoridation in 98% of Europe. [See below
**
]
So it could mean the end of Fluoridation NZ wide on legal technicalities,
and that could ripple across to Australia, at least in terms of public
condemnation of the practice which is growing by the day.


           

              Dear all,
It is time to come clean and green on fluoridation.

              Our small critique of  your policy on fluoridation:
1)  Site security:

OUR COMMENTS:
Fluoridation plants represent a security risk – an easy target for terrorists and vandals – 
therefore, only each daily requirement of chemicals, should be stored at each plant site, under lock and key.
The bulk of the chemicals, should be stored under the security of a military standard…
off-site and delivered daily.
2) Impurities in the product:

OUR COMMENTS:
Queensland is using a product with the same contaminates as
 

 'Mosaic'

   
–
On 7th  Oct. 2015 Mosaic Fertilizer was fined $2 billion.
See ↓
Maximum Impurity Content values (MICs) is provided in Table 1.
( QUEENSLAND HEALTH )
Fluoride dosing concentrations are far too high.
Most of these heavy metals, like the fluoride, are accumulative.
3)  The fluoridation of water, is in contravention of Queensland's own law.




OUR COMMENTS:
As such, all Queensland Government Employees, involved in Queensland Water
and fluoridation promotion, are liable. 
OUR RECOMMENDATIONS:
a)  We therefore believe the Queensland Government
should close down all fluoridation plants in the state.
We want Queenslanders to have, what most countries on this planet have –
no artificial water fluoridation.
b)  All reticulated water outlets, domestic, commercial and industrial, should be potable water –  fluoride free.  –




( Preferred sterilizing agent

 Chlorine dioxide,

rather than chlorine. )
c)  However, if you consider it necessary, for any person wishing to have access to fluoridated water, taps marked as being – 'Dosed with Fluoridated Water' – could be sited at convenient locations around major Queensland towns. 
d) Dental authorities who might complain, can be referred to recent events in
 Israel
As you can see, we have the science and history – and we are determined.
We are convinced that our web site alone, has amassed sufficient evidence, to justify these recommendations. We are anxious to support you in these endeavours.
What we are asking for, will save the Queensland Government, and many of its
shires, a fortune, and increase your popularity.
     Yours in health,

WE WERE NOT CONSULTED ABOUT FLUORIDATION, AND WE

ARE




HAPPY TO HAVE IT REMOVED WITHOUT BEING CONSULTED.

 See also:
Consumer Rights & Guarantees


LET IT BE KNOWN:
Fluoridated water is a 'Therapeutic Goods' and also a Medicine
as per the definition of the Therapeutic Goods Act 1989.
The NHMRC,  Australian Health Departments and the Australian Dental Association claims
on fluoridation by definition bring the practice within the definition of this Act.
Whether fluorides are delivered by needles, tablets or delivered via the public water supply,
it is against the law to administer any medicine without the consent of the patient. –
No exceptions.
All Governments state and federal are hereby advised to stop fluoridation immediately,
before someone ends up in court… 

We suspect that any private citizen, company, corporation
(which includes The Australian Government,
now registered as a corporation

♦

),
or terrorist, would be expected to face the full
force of the law for such a criminal act. 
♦ COMMONWEALTH OF AUSTRALIA is registered in the
UNITED STATES SECURITIES EXCHANGE COMMISSION as
CIK (0000805157).
  The Ninth Commandment: Thou shall not bear false witness…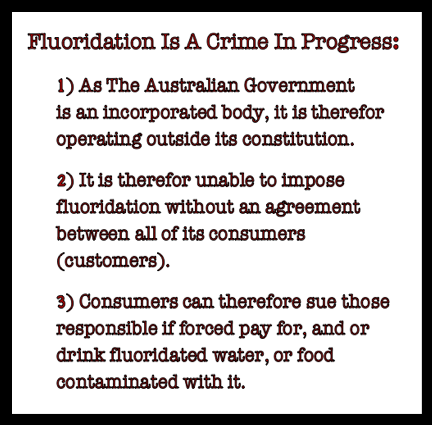 Watch below
Some say this is the worst pollution in Australia's history – on 70 sites, but
the Australian media, except  

⇒

 

ABC TV 'Four Corners'

⇐

  
are ignoring it !
We are not finished with this, – many long legal battles are yet to come.

7  OCTOBER 2015 Mosaic Fertilizer was fined $2 BILLION
Mosaic Fertilizer, one of the largest sellers of
"fluorosilicic acid" that cities add to
public drinking water [USA].
 It is described by EPA  a "hazardous waste."
This is the same chemical as used in Australia!

Shine Lawyers

 has welcomed the Federal Government's

proposed new range of protections for
Australian corporate whistleblowers.
⇓

  October 2017 

⇓

…To this day, no provincial law–not the Safe Drinking Water Act, Public Health Act
or the Fluoridation Act–authorizes the use of public drinking water to deliver
any substance meant to treat or prevent disease when consumed…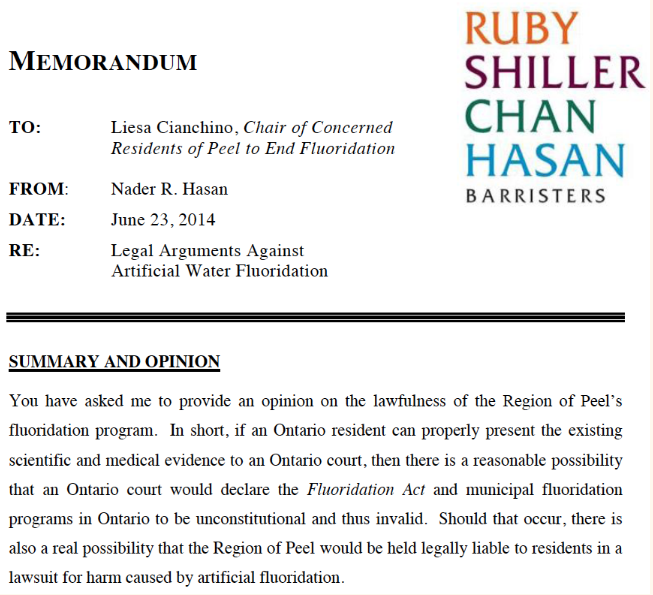 MEMORANDUM TO:
Liesa Cianchino, Chair of Concerned Residents of
Peel to End Fluoridation
FROM: Nader R. Hasan – DATE: June 23, 2014
You have asked me to provide an opinion on the lawfulness of the Region of Peel's fluoridation program. In short, if an Ontario resident can properly present the existing scientific and medical evidence to an Ontario court, then there is a reasonable possibility that an Ontario court would declare the Fluoridation Act and municipal fluoridation programs in Ontario to be unconstitutional and thus invalid.  
Read on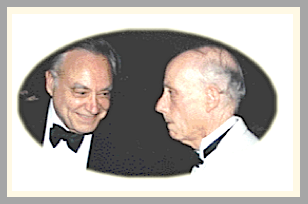 Credit to:
Douglas Cross, BSc,CBiol,EurProBiol,FSB 

     **

See full original text

⇒

 

HERE


Utah questions toxic fluoridation. The state has just come to realize that it is getting many extra toxins – tramp contaminants – at no extra charge, along with its monthly medicinal poisonings from fluoride. Utah is becoming the first state to question the criminally stupid absurdity of paying chemical companies to dump toxic waste into its drinking water.


………………

⇒

 

MORE


Volume 14, Number 2 Summer 1997
Copyright © 1997 by Pace University School of Law All rights reserved
reprinted here with permission
Fluoridation of Public Water Systems:

Valid Exercise of State Police Power or Constitutional Violation?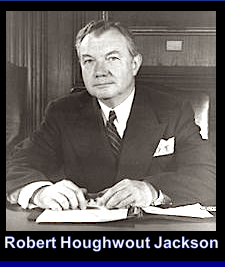 [The atrocities committed by Nazi physicians and researchers during World War I
prompted the development of the Nuremberg Code to define the ethics of modern
medical experimentation utilizing human subjects. Since its enunciation,
the Code has been viewed as one of the cornerstones of modern bioethical thought.]


The Protocol For The Prohibition Of  The Use In War
Of Asphyxiating Poisonous Or Other Gases, And
Of Bacteriological Methods Of Warfare.
Was Signed at Geneva: 17 June 1925

See  ⇒
Sarin in Syria



⇓ The Longest Court Case in Scottish History ⇓



…Justice Yetka believed that the state's intrusion was
neither reasonable nor the least intrusive method
to provide the alleged public health benefit…

.
Links to Rita's site →
HERE

"Like all nostrums, fluoridation will soon pass away.
In 50 years from now it will be known as the
greatest hoax in medical history."
Judge R.C. Tarter.  – [ The 50 years are nearly up! ]


Full text →
HERE



… IN 1957, THE SUPREME COURT OF CANADA RULLED: ( [F. Not Legal ] )
that this added fluoride is medication for a special health purpose
and the law then did not allow the use of municipal water supplies
for this intent and delivery-  (Supreme Court of Canada).
.
To this day, no provincial law–not the Safe Drinking Water Act, Public Health Act, or the Fluoridation Act–authorizes the use of public drinking water to deliver any substance meant to treat or prevent disease when consumed. 
This fact alone calls for an immediate review of PEO's current policy (or lack thereof) that enables and condones municipal water fluoridation in Ontario on the basis of reports from professional engineers…


"When you see that in order to produce, you need to obtain permission from men who produce nothing and when you see that money is flowing to those who deal, not in goods, but in favors and when you see that these men get richer by graft and by their pull – not by their work.  When your laws don't protect you against them, but protect them against you and when you see corruption being rewarded and honesty becoming a self-sacrifice…
You may now know that your society is doomed." – Ayn Rand

Fluoridation has all the characteristics of the mystery cults and religions, 
which have controlled man and the destinations of nations since 
primitive times.  Thriving on the gullibility of  human species
by the propaganda of fear. Fluoride is the new God,
the saviour of all teeth, not to partake of this
holy water is to be forever damned…


Queensland Urban Utilities & Unity Water.


     The Queensland State Government may be in breach of sections 204 & 240 of the Queensland Criminal Code – 1899, by deliberately adding of the toxic heavy metals & poisons, in any quantity, into drinking water. We suspect that any private citizen, company, corporation (which includes Queensland Government, now registered as a corporation

*

*

), or terrorist would be expected to face the full force of the law for such a criminal act

.

This could have legal ramifications for Queensland Government employees who are involved in water fluoridation instillations and operation, 

 e.g. 

Queensland Urban Utilities & Unity Water.
*

*

On the 15 July 2002, The Corporations (Q) Act 1990 (Q) Reprint No 3 created in QLD a Corporate Government. The State of Queensland Australia is registered with the US Securities and Exchange Commissions under No. 0001244818.
.
Note:

The people of Queensland were not consulted on fluoridation, fully informed,
             and no referendum was held, and many had expressed their disapproval.

   Anna Bligh ignored the peoples wishes, advice, political wisdom, and legal
requirements.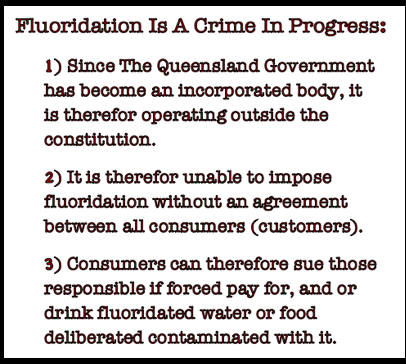 THE TORAH
"… it will be shown that water
fluoridation & vaccinations
violate the Torah principles of kashrut, pekuach nefesh, and ushmartem es nafshoseichem (taking proper care of one's health) and therefore ought to be considered as treif and assure…" 

by Merilyn Haines


3 August 2017

More money has been payed out for fluoride damage 
than for any other pollutant - mostly 'Out-of-Court' settlements.