Fire Fighting Foams Are Used During Training Exercises


At Defence Force Facilities & Airports Around Australia:

Per-and poly-fluoroalkyl substances (PFAS) are a group of man-made fluoride based chemicals that have been widely used since the 1950s, in household and industrial products that resist, oil, stains, heat, grease and water. This includes non-stick cookware, food packaging, stain protection applications to fabric, furniture and carpet, and firefighting foams. Since 1970, firefighting foams containing PFAS were used extensively in Australia and elsewhere due to their effectiveness in fighting liquid fuel fires. 

 



In 2017, the ABC TV [Australia] reported that the use of
fire-fighting foams during training exercises at
Australian Defence Force facilities around
Australia had contaminated nearby
water resources. 
Australian Defence was warned 30 years ago that
the chemicals in its fire-fighting foam should
be handled as a toxic waste...
Some say this is the worst pollution in Australia's history – on 90 + sites.




The media, except

 

»⇒  

 ABC TV  'Four Corners' 

⇐«

   are ignoring it !
 

However the

»⇒

 

"Protected Pollutant Fluoride"

 

⇐« 

 

is NOT


mentioned by name by the ABC in this programme ?


…Currently, there are investigations into PFC environmental contamination at 18 [and still counting] priority defence sites around Australia affecting at least 1200 households. These include the Williamstown Air Base in New South Wales, the Army Aviation Centre near the rural town of Oakey in Queensland, Royal Australian Air Force Base (RAAF) base at Edinburgh in South Australia, RAAF Bases in Townsville and Amberley, near Ipswich and at other RAAF bases in West Australia as well as in 
Darwin, Tindal, and Robertson Barracks in the Northern Territory…
 
EXTRACT FROM:
Contamination of Australian Defence Force facilities and other
Commonwealth, State and Territory Sites in Australia  – Submission 34
Submission to the Senate Inquiry into AFFF Contamination at RAAF Base Williamtown:
.
…In relation to pollution and contamination, the environmental policy developed at this time (2001-2003) recognised there was a 200-year legacy of contaminated sites on and off the Defence estate. Literally thousands of instances of legacy contamination were already known to exist at Defence sites (many of which dated from WWII) – including contamination arising from ordnance use (conventional and chemical), landfills and burial pits, fuel leaks, chemicals (including cocktails of hydrocarbon solvents), metals – including mercury, and even

radioactive materials

. In this context, it was not the case that there was a shortage of issues that needed to be dealt with – the risk posed by fugitive AFFF was one of the many being considered at the time.

During 2002 I had several conversations and received reports from my regional environmental colleagues and other personnel located at Defence sites, about fish-kills that had been observed following the accidental, incidental or deliberate release of fire fighting foam into aquatic environments. Testing and training practices and/or maintenance of critical fire fighting equipment would occur routinely at many Defence sites, often as part of a daily, weekly or periodic routine. This equipment included the familiar aviation fire trucks, as well as the automated fire protection systems built into aircraft hangars. At that time these reports related to RAAF Base Richmond and RAAF Base Amberley where I recall fish kills had been observed, on occasions, in Rickebys Creek (Richmond) and Warrill Creek (Amberley), that adjoin these sites…

»⇒

MORE



Fairfax Media can now reveal that

Professor Giesy

was


 accused of covertly doing 3M's bidding in a widespread international


campaign to suppress academic research on the dangers of PFAS ⇓  ⇓  ⇓


July 2019 – EWG & Northeastern University have mapped out
712 PFAS contamination sites across 49 states in the U.S.



Professor Nicholas Buckley
We at  'Fluoridation Australia' wish him well. 
The ADA & The AMA may try to frustrate him.
"The environmental and potential human health impacts




from exposure to a group of manufactured chemicals




 known as PFAS (per & poly-fluoroalkyl substances) 


are of increasing concern worldwide."
[ All the 'Fs' are for fluoride. ]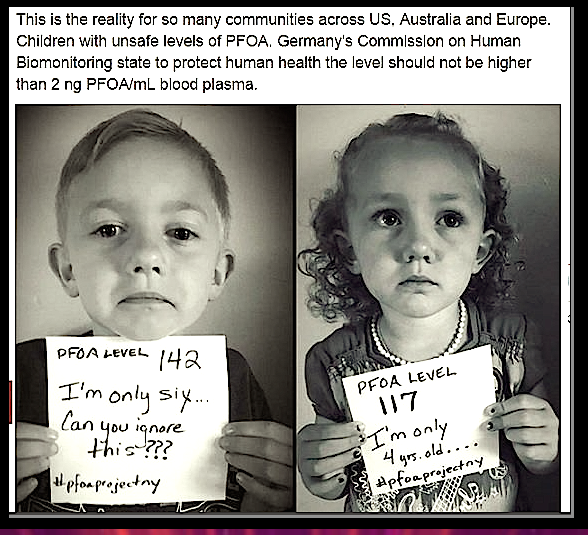 October 2017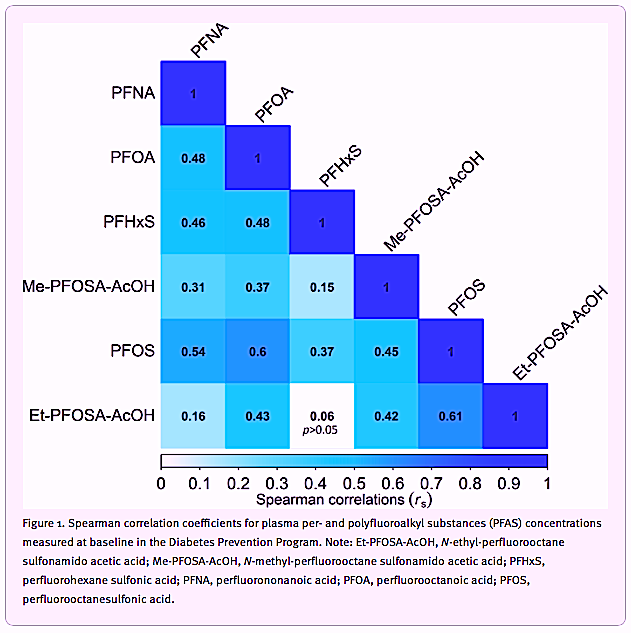 PFOA and PFOS are extremely persistent in the environment
and resistant to typical environmental degradation processes.
PFOS

 w

as added to Annex B of the
Notice all the Fs  for Fluoride ⇓
     Wikipedia  »→ HERE
The Health and Environmental Concerns of 'Persistent Organic Pollutants':
Fluorosurfactants such as

 perfluorooctanesulfonic acid 

(PFOS),

 

perfluorooctanoic acid

 

(PFOA), and

 perfluorononanoic acid 

(PFNA) have caught the attention of regulatory

agencies because of their persistence, toxicity, and widespread occurrence in the blood of general populations

[6][7] 

and wildlife. In 2009 PFASs were listed as

 

persistent organic

pollutants

 

under the

 Stockholm Convention,

due to their ubiquitous, persistent,

bioaccumulative, and toxic nature

.[8][9] 

Their production has been regulated or phased out by manufacturers, such as 3M, DuPont, Daikin, and Miteni in the USA, Japan, and Europe.
.
Some manufacturers have now

 

replaced PTFOS and PFOA with short-chain

PFASs, such as perfluorohexanoic acid (PFHxA),

 

perfluorobutanesulfonic acid

[5] 

and

perfluorobutane sulfonate (PFBS). Shorter fluorosurfactants may be less prone to accumulating in mammalians

;[5] 

there is still concern that they may be harmful to both

humans,

[10][11]

[12]

 

and the environment at large.

[13]