BABIES-VICTIMS OF FLUORIDATION.

As the Fluoride scandal continues to
unravel. Water fluoridation legislation
should be repealed in all
Australian States


Imedeatley. 

Killing Our Own!













59 second Youtube ↓




For every 17 micrograms of lead in your body,
your 

IQ

 is reduced by 9 -10 points –
FOR EACH GENERATION…

THERE ARE OVER 5,300 SIDS DEATHS
IN USA EACH YEAR
[Old statistics ]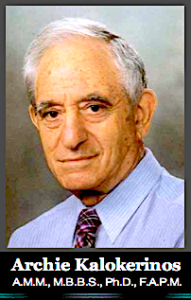 The the beautiful happy children above are
healthy and are NOT victims of SIDS.

SIDS remains a tragic and continuing issue, especially




among Australia's Indigenous population

.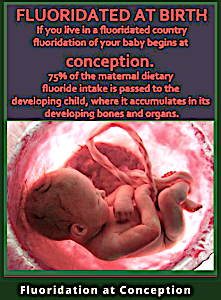 Dr. Hardy Limeback Presentation:

Is There a Natural Way To Fight Dental Decay?
LARGE FILE →
HERE
←

Full true story 

⇓
The original Death Certificate and letter was supplied to us
by Jasons' parents and remains in our possession.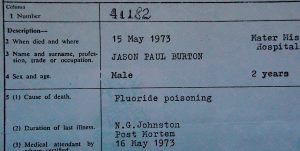 Fluoride avoidance reduced anaemia in pregnant women, decreased pre-term births and enhanced babies' birth-weight, concludes leading fluoride expert, A K Susheela and colleagues, in a study published in Current Science  (May 2010).
Susheela's team explains that anemia in pregnancy, which can lead to maternal and infant mortality, continues to plague many countries despite nutritional counseling and maternal iron and folic acid supplementation. This is the first examination of fluoride as an additional risk factor for anemia and low-birth-weight babies.
Anemic pregnant women living in India, whose urine contained 1 mg/L fluoride or more, were separated into two groups. The experimental group avoided fluoride in water, food and other sources and ate a nutritious diet per instruction. The control group received no instructions. Both groups supplemented with iron and folic acid.
Results reveal that anemia was reduced and pre-term and low-birth-weight babies were considerably fewer in the fluoride-avoidance group as compared to the control. Two stillbirths occurred in the control group, none in the experimental group.
.
Susheela et al. writes, "Maternal and child under-nutrition and anemia is not necessarily due to insufficient food intake but because of the derangement of nutrient absorption due to damage caused to GI (gastrointestinal) mucosa by ingestion of undesired chemical substances, viz. fluoride through food, water and other sources."
Fluoride avoidance regenerated the intestinal lining which enhanced the absorption of nutrients as evidenced by the reduction in urinary fluoride followed by rise in hemoglobin levels, they report.
Could the same thing be happening in the United States? State University of New York researchers found more premature births in fluoridated than non-fluoridated upstate New York communities, according to a presentation made at the 2009 American Public Health Association's annual meeting.
Current Science reports that adverse reactions of fluoride consumption are known to occur including reducing red blood cells, reducing blood folic acid activity, inhibiting vitamin B12 production and the non-absorption of nutrients for hemoglobin biosynthesis.
"Citizens must demand that water fluoridation be stopped," says attorney Paul Beeber, President, New York State Coalition Opposed to Fluoridation, Inc.
"It's disturbing that public-health officials and organized dentistry continue to ignore the overwhelming evidence revealing fluoride to be non-nutritive, unnecessary and unsafe," says Beeber.
.
Source:

             NYS Coalition Opposed to Fluoridation, Inc.
NYC COUNCIL MEMBER VALLONE
Fluoride / Infant Warning
New York City Council member Peter Vallone, Jr.
introduced a resolution calling for infant fluoride
warnings on the city's water bills.
This comes on the heels of the city of Milwaukee
and the State of New Hampshire both passing

laws requiring infant fluoride warnings for water customers.



Watch ⇓


It was long before the Belfast Agreement.
But the campaign against fluoridation in
Northern Ireland united these political foes! ⇓
When Gerry Adams & Ian Paisley Worked Together




 ⇑ ⇑ 

⇑ ⇑ ⇑ ⇑ ⇑ ⇑ ⇑ ⇑ 

⇑ ⇑ ⇑ ⇑ ⇑ ⇑ ⇑ ⇑ 

⇑ ⇑ ⇑ ⇑ ⇑ ⇑ ⇑ ⇑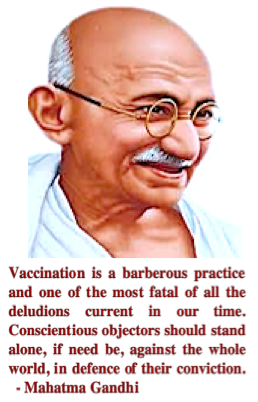 "The Bill & Melinda Gates Foundation is NOT a charity.  It's a front group

targeting the poor and indigenous populations of the world…pushing for
governments to fork over more money to Big Pharma, faster,
under the 
guise of "protecting" the poor…

There are:

"54 quadrillion atoms of mercury in a Thimerosal flu shot"

We've been studying the impact of toxins on children




for the past 30 years and reached the inescapable


conclusion: Little Things Matter.

We've discovered that extremely low
levels of toxins can impact brain development.

One critic called vaccinations – biochemical warfare against




a largely unsuspecting public, particularly children,




disguised as disease prevention by means




of  'Mickey Mouse Science'


See great talk – 2014 by
Suzanne Humphries on Vitamin C

⇒

 HERE





National Vaccine Information Center (NVIC) at www.NVIC.org. 
SOME INGREDIENTS OF VACCINES:
Aluminium hydroxide, Aluminium hydroxide/phosphate, Aluminium phosphate, Borax, Egg Protein, Formaldehyde, Gelatin, Gentamicin (antibiotic), Kanamycin (antibiotic), Monosodium Glutamate (MSG), Neomycin (Antibiotic), Phenol, Phenoxyethanol, Polymyxin (antibiotic), Thiomersal (

mercury compound

),
Yeast  (current up to March 2013)
We bring you profiles of three vaccine fraudsters, hucksters and conmen who should probably be in prison… but aren't. All of them have indirect ties
to the CDC and its vaccine propaganda: ⇓  ⇓  ⇓
    See also great talk below 2014 by Suzanne Humphries

: 

⇓
.
 
A Message To Anyone Who Fights The Establishment:
  As peaceful as your protest may be, it threatens the establishment and those in charge of it. To think they will just roll over and hand the empire to you is stupidity. They are going to fight, they are going to lie, and they are going to do anything in their power to keep the establishment in the way it is. I think it is important to remember that anything they do to you is nothing compared to what they do to us all, have done to us in the past and of not stopped will continue to do to us in the future. So when they fight you, and they will, keep in mind it is a sure sign that what you are fighting for is working.


…….

Be strong, be true, and don't give up.

2 April is World Autism Day
DISCLAIMER:
Some of the articles or pieces posted
on this site contain copyrighted material.
Credit is given to the author and links
are provided to the original source.


We believe this constitutes 'fair use'

.
We keep our own copies in case
the originals are "lost".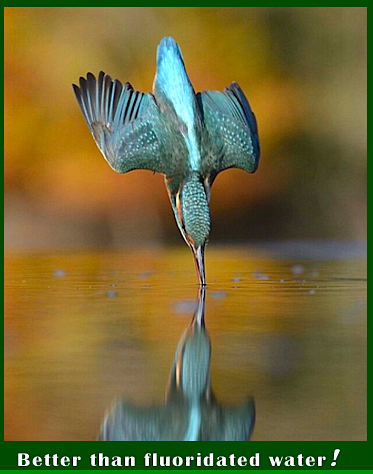 .